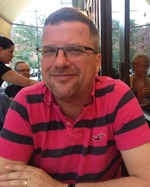 Derek Atkinson | Corbion | USA
Derek Atkinson has been responsible for Corbion's bioplastics business in the Americas since July last year. Following from the announcement that Corbion would build a world scale PLA plant in Thailand Derek is responsible for setting up the organization in the Americas that will facilitate market entry.
Previously he was Business Development Director PLA Asia for Corbion since the beginning of 2011 located in Singapore. In addition to his main responsibilities for commercializing Corbion's PLA technology in Asia he was also strongly involved in the sourcing and conversion of second generation biomass as feedstocks for sustainable PLA production that does not interfere with the food chain.
Prior to that he was Business Development Director at Oxford University spinout LSE listed Oxford Catalysts plc, now called Velocys plc, a catalyst technology and microchannel reactor development company in the UK and USA. The focus of Oxford Catalysts was in gasification and Fischer-Tropsch conversion for biomass to liquids and gas to liquids – specifically flare gas conversion and stranded gas monetisation. He was a member of the UK Government Thematic Working Group on thermochemical conversion of biomass
Before working for Oxford he held many global sales and marketing positions during his 17 years at Grace Davison mostly focused in the catalyst area and was located in Germany.
He has a degree in Chemistry and Polymer Science Technology from Loughborough University of Technology in the UK. Until he left Europe he was an external examiner for the School of Chemistry at the University of Cardiff.